All suites in the Blue Mountain Village are fully furnished. When you purchase you have full ownership. You have the option of exclusive use of your suite or you can participate in the fully managed turnkey rental program where you earn revenue on a nightly basis. In the rental program you can enjoy personal use for up to 10 days per month, however most owners tend to only personally use their suites for three to four weeks per year. The revenue of each individual residence is pooled which means that you earn revenue even if your specific suite is not rented out, as long as it is available to be rented, as the total revenue coming into the building, each night is divided amongst all the suites in the rental pool. Historically the revenues earned are covering the monthly operating costs, i.e. condo fees, realty taxes, Village Association fees, content insurance etc. Ownership at Blue Mountain Village is the perfect cottage alternative where Homeowners are enjoying personal use of their suites, earning revenue that offsets the operating costs and with a long term goal to recognize capital appreciation.

The Grand Georgian
The first Blue Mountain Village address consisting of 187 suites ranging from studios to 3 bedrooms. Designed in a historic chateau style with classic décor reminiscent of a grand railway lodge, the Grand Georgian is the main check in for the village suites. Two year round outdoor heated hot tubs, seasonal pool, sauna, exercise room and games room complete your resort home. Fabulous views of the mountain, events plaza and Market Street. Fully refurbished in 2009.
Weider Lodge
Located right at the base of the mountain only steps to the Silver Bullet chairlift or gondola in the summer, Weider Lodge is styled as a classic mountainside ski lodge with its' warm, rich and rustic décor. Weider Lodge has 91 upscale suites ranging from studios to 3 bedrooms. Amenities include a seasonal outdoor swimming pool, year round hot tub, sauna and exercise room. Fabulous views to the mountains, events plaza or the courtyard and mill pond. Fully furnished suites, refurbished in 2010 start as low as $159,000 for a bachelor.
Seasons at Blue
Right in the heart of the Blue Mountain Village, Seasons at Blue offers 137 suites finished in a warm, cottage décor ranging from studios to 3 bedroom lock-offs. Relax in the oversized year round hot tub, enjoy the seasonal outdoor pool, sauna and exercise room or gather round the cozy outdoor fire pit. Seasons at Blue, in the heart of the village is conveniently located at the crossroads of two of the village's main shopping streets. Fully refurbished in 2010.
The Westin Trillium House
The Blue Mountain Village landmark. An amenity rich full service condo hotel in a ski/in – ski/out location that is spectacular. 224 multi-sized suites with amazing view corridors overlooking the Millpond, Village and Mountains. The Westin, features 10,000 square feet of convention facilities, valet parking and 24-hour concierge, with upscale amenities including an excellent exercise room, a year round outdoor heated swimming pool and hot tubs and kids rooms. It offers service and quality never experienced in the region. List prices in The Westin start around $169,000 for a bachelor suite. The Westin is a pet friendly hotel.
Mosaic at Blue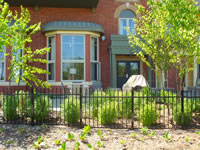 The newest addition with Millpond and Market Square location and within very close proximity to the new Blue Mountain Village Conference Centre! Mosaic is a modern boutique-inspired residence with a fabulous free form year round heated play pool with an adjoining lap pool. Other amenities include an outdoor hot tub, sauna and exercise room. Mosaic has the first ever Owners Lounge for entertaining and guests ski lockers with ground floor walks out. Mosaic at Blue is a highly desired residence within the Village.
---
Outside the Blue Mountain Village core Intrawest developed two Golf Course town home communities, Rivergrass and Snowbridge. Snowbridge is a development combined with exclusive custom single family homes. The Town home ownership opportunities provide flexibility in that you can have exclusive use, take part in the Blue Mountain Resorts fully managed rental program or you can rent it out on your own! If joining the Blue Mountain Rental Program you can use your suite for up to 10 days per month as in the Village and when not using it personally you can earn revenue when your specific town home is rented out. It is not pooled revenue as in the Village. The town homes are larger suites than in the Village core and some prefer the town homes for this reason as they are more conducive for family entertaining. Although only a short walk into the Village, there is shuttle service available to take you to and from the Blue Mountain Village".
Rivergrass
Rivergrass, a hybrid golf course town home community consists of an exclusive 84 resort homes and is the closest golf course community to the Village, only a three minute walk to the Village core. Rivergrass is nestled along the fairways of the Monterra Golf course. It offers the best of both worlds. Rivergrass amenities include a beautiful free form swimming pool and year round hot tub with a change room equipped with an area for tuning up your skis of bicycle.
Snowbridge
Snowbridge at Blue is a very coveted, sought after golf course community, consisting of prestigious single family homes intermixed with luxurious town homes community within close proximity to the Village core. The multipurpose trails provide an underpass for direct access into the Village core offering an enjoyable stroll or bicycle ride to the action. Enjoy the seasonal outdoor pool facility of Snowbridge Park, emanating a 'country club' setting.